Greetings, all! Summer is here, bringing with it intense heat and an intense longing to avoid cooking anything more involved than a toaster waffle. While looking for a summer-worthy (read: simple, with minimal stove time) dessert, I stumbled across Arlene Cummings' recipe for Mini Cannoli Cups.
In the process of creating said cups, I had some pie crust scraps left over. I brushed them with jam, baked 'em up, and offered them to Junior. He devoured the lot and asked for more "pie cookies," and the rest is sugar buzz history.
We start with Arlene's tricked-out version of pie crust. For speedier results, you can opt for store-bought dough, but any standard recipe will work for the DIY baker.
Apricot Pie Cookies
2 cups flour
1/2 teaspoon salt
2/3 cup shortening
5-6 tablespoons ice water
Turbinado sugar
Ground cinnamon
Apricot preserves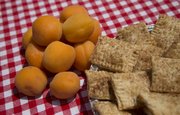 Preheat your oven to 425 F (I know, and I'm sorry) and line a big ol' cookie sheet with baker's parchment. Mix the flour and salt in a bowl, and rub in the shortening until you have a heap of what looks like breadcrumbs. Start adding the water a tablespoon at a time; sprinkle it on and stir the crumbs with a fork. Add just enough water to make a dough that holds together.
Divvy the dough into two chunks. Roll out the first one into a 1/8-inch-thick rectangle, roughly 8 inches by 10 inches. Sprinkle the turbinado sugar over the dough with a generous hand. Do the same with the cinnamon. Run your rolling pin gently over the dough to press the toppings into the surface.
Carefully flip the dough over and grab a knife or pizza cutter. Cut the rectangle in half once, lengthwise. Cut crosswise every 2 inches to make a total of 10 little rectangles. Spoon a little dab of apricot preserves onto one half of each rectangle, being extra-careful to avoid the edges. Fold the "clean" halves over and press the three open edges with a fork to crimp and seal. You're basically making teeny little pies with a sugar-cinnamon coating.
Repeat the same steps with the other half of the dough. Arrange the newly-crimped dough pockets on the cookie sheet; it's OK to crowd them because they won't puff up much. Bake them for 12 minutes, or until they just start to turn brown at the edges. Let them cool on the sheet for a little bit, and then transfer them to a rack to finish cooling.
You can change these up with different kinds of preserves or even canned pie filling. Replace the sugar and cinnamon with garlic and herbs to pair with a savory filling. Double the recipe or use fancy cookie cutters to create stackable shapes. You're limited only by your imagination and pantry.
Pie cookies can be served warm, but make sure they're completely cool before storing them. Warm pie crust in an airtight container makes for soggy cookies.