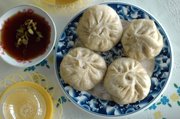 In China, people eat these doughy pork-filled steamed buns for breakfast, often carrying out a couple in a paper bag to eat on the run or the bus, said Rachel Tindell, who moved here from China and now owns Oriental Pearl with her husband, Matt Tindell (her parents help cook, too). Chinese restaurants that serve a traditional dim sum brunch (there aren't many around here) always have these steamed buns; typical college-town Chinese takeout places usually don't.
Where to get it: Oriental Pearl, 1910 Haskell Ave.
What you'll pay: $3.95
Try it with: The soy dipping sauce served on the side, since you'll probably be eating these at a table instead of on the bus.
Also on the menu: Loose-leaf tea served in small pots, regular and mini-size crab rangoon, a Chinese "burger" of pork with cilantro and other Asian flavors, Chinese Fried Sauce Noodles, Guobao Pork and a variety of Chinese fried rice, noodles and stir-fried dishes.
Tindell said her favorite dish — Oriental Pearl's Cold Noodles — is popular in Northern China, but she tones down the spice for customers here. "Not many people can handle it," she said.
— Off The Beaten Plate highlights some of the more exotic, oddly named or inventively concocted dishes from local menus. Know of an offbeat item we should check out? Email reporter Sara Shepherd at sshepherd@ljworld.com. Follow her at Twitter.com/saramarieshep.