It seems like school just let out, and already it is time to think about back-to-school sales. How is this possible?
In the coming weeks, store aisles will be full of backpacks, notebooks, crayons and other school supplies. Here are some tips to help parents get the best bang for their buck when it comes to back-to-school shopping.
Buy now AND save later
The best time to buy school supplies is at the beginning of the school supply shopping season (as in now) and shortly after school starts.
If you shop now, you will have your pick of the litter on sales at department, grocery and drug stores. So if your daughter wants a backpack with Elsa from "Frozen," snag one now while the getting is good. And don't forget online venues, such as Amazon and eBay.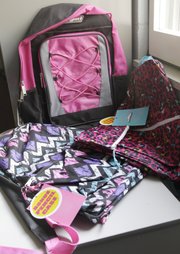 For the best values, though, keep a list of ongoing supplies your child will need throughout the school year or for next year. Pick up these items after school starts for up to 70 percent off at some stores.
Lawrence First United Methodist Church member Carladyne Conyers buys backpacks and school supplies every year for the Ballard Center and Salvation Army's annual school supply drive.
Conyers searches for the best deals on backpacks and supplies to buy with funds donated from First Church's congregation. She said she is able to buy backpacks for pennies on the dollar when she shops in September. She snagged end-of-year clearance backpacks for $1.99 each last year at Walmart.
"Planning a year ahead is a big plus," Conyers said.
Plan your trips to maximize points
Almost every grocery store has a fuel-saving or loyalty program. The key is to use these programs to your advantage.
For instance, if you know that Target is having a sale on the school supplies that your child needs, plan ahead to maximize your savings. If you have a fuel savings card at Dillons, you can receive quadruple fuel points most weeks if you purchase Target gift cards at Dillons to use for your school shopping trip.
If you plan to spend $100 on school supplies, you would receive 400 fuel points for purchasing your Target gift cards at Dillons. That one quick transaction would save you 40 cents per gallon.
Pay it forward for good shopping karma
I believe in shopping karma. I really do. That's why I never hesitate to tell someone when I hear of a good deal. And it's no surprise that it's never long before I find another amazing sale.
So, when it comes to back-to-school shopping, throw some extra supplies in your cart this year to donate to the Ballard Center and Salvation Army. Every year they give supplies to hundreds of low-income children in Lawrence. I promise, your good deed will not go unnoticed.
— Arley Hoskin is a writer, mommy and avid bargain shopper. Follow her at Twitter.com/ArleyHoskin for updates on local bargains.