Forget the "summer learning slide" — my biggest concern these days is the slipping that's happening to our bedtime.

Monday night is usually pretty good. We're in the Kid's room reading books and tucking him in pretty close to the appointed 8 p.m. time. But then, inevitably, on Tuesday we linger too long over dinner and outside play. And, of course, Wednesday is City Band Concert night, and that doesn't even start until 8. By Thursday it's 9:30 and I'm sitting in the Kid's room ― holding my own eyes open, because, let's face it, I'm old ― answering his 137th random question with, "No, really, good night."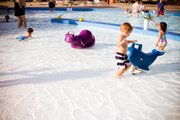 Of course, the parenting experts don't help assuage my guilt over this. If you trust them, I'm setting the Kid up for a lifetime of performing below his potential and eventual juvenile delinquency. A loose bedtime is the fast lane to prison, you know.
It was against this backdrop last week that I decided we just had to spend an evening at the pool.
My mom stayed home with me when I was little, so I have fond memories of spending whole summer afternoons floating in the cool, blue water of our city pool. As a working mom myself, though, if we want to get much summer swimming done we almost always have to dip into the pool in the evenings.
Accordingly, I loaded a bag of swimsuits and towels into the car the night before so that we could change quickly and hit the water the second Sweet Husband got off work.
The Lawrence Outdoor Aquatic Center does a promotion called "$2 Tuesdays." After 6 p.m. each Tuesday night everyone gets in for $2. Kids age 4 and under are always free, so it makes for a cheap night out for our little family of 2 adults and a 3-year-old. The particular night I got the whim to go swimming was a Monday, so we paid the regular adult price ($4 each; $3 for kids and seniors) ― still not a bad deal.
We wriggled the Kid into his suit first, and had to coral him in the family restroom until Sweet Husband and I could quickly put on our own suits. Then ― after the barest slathering of sunscreen ― he was streaking into the zero-depth area like a mini "Baywatch" lifeguard.

The Kid splashed me, and indignantly scolded when I splashed him back. Sweet Husband and I shot each other with the water canons. The Kid dared me to put my face in the water ― apparently a big deal among the preschool set ― and was duly impressed when I plunged my head under without hesitation.

Sweet Husband tried to coax the Kid into some floating practice in the deeper water, but the Kid was having too much fun bouncing and crab crawling to be bothered with anything that sounded like swimming lessons. And so we spent an hour and a half ― just being silly and cool and together.
At 7:15, I remembered to call in a pizza from Rudy's, and we picked it up on the way home. I wish I could say we made it through our bath-books-bedtime routine by 8, but that would be a big fat lie.
Meh, to heck with the parenting experts; it was worth it. Fall will be here soon enough, along with its back-to-school supplies and shorter, darker days. We can worry about getting back to our more strict routines then. For summer, I'll choose swimming and pizza over bedtime any day.
— Meryl Carver-Allmond lives in Lawrence and writes about chickens, babies, knitting, gardening, food, photography, and whatever else tickles her fancy on any given day at mybitofearth.net.
More like this story on Lawrence.com