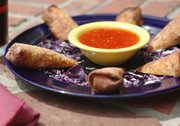 Every barbecue restaurant serves a pulled pork sandwich. At Bigg's, the juicy smoked meat shows up in a couple of unexpected places, including the Barbequed Egg Rolls appetizer. Pulled pork, cream cheese and spices are deep-fried in Asian wrappers and served with red cabbage and sweet-and-sour dipping sauce.
Where to get it: Bigg's, 2429 Iowa St.
What you'll pay: $6.99
Try it with: Bigg's sweet barbecue sauce (one of the three house sauces you'll find on your table), for a less Eastern/more Western taste.
Also on the menu: Pulled Pork Nachos, Pulled Pork Tacos, hearty entrees such as meatloaf and chicken fried steak, fried pickles (whole spears!), burgers and the usual smokehouse fare. In particular, Bigg's prides itself on its dry-rubbed ribs.
— Off The Beaten Plate highlights some of the more exotic, oddly named or inventively concocted dishes from local menus. Know of an offbeat item we should check out? Email reporter Sara Shepherd at sshepherd@ljworld.com. Follow her at Twitter.com/saramarieshep.