Among the items on this month's Final Friday roster: sock sculptures, literary readings and a look at Lawrence artists from the 'Inside Out.'
Henry's Coffee Shop
Friday marks the opening night of "Had to Do it," Addison Stonestreet's show at Henry's Coffee Shop, 11 E. Eighth St., from 6 to 9 p.m.
Stonestreet, a Kansas University graduate, uses found objects and the concept of re-appropriation in his latest body of work. Among the varied art on display at Henry's: line work, skateboards and, yes, sock sculptures.
The Kansas City-based artist draws inspiration from his Tourette syndrome, embracing its side effects during the creative process. His work often employs a "chaotic" layering process consisting of drips and "intentional mistakes" while incorporating his Tourette tics into the art.
An avid skateboarder, Stonestreet also draws heavily from the skating subculture, which he calls a "melting pot of style, taste and behavior."
"The intentions that drive my work are to be seen as thoughts that are the manifestations of what we experience. The idea of multidirectional movements are the result of freedom. Can't freedom evolve into the notion of creativity? With creativity comes limitless possibilities. To limit the creative is to limit the progress of civilization and progressive action," Stonestreet says in his artist's statement.
Wonder Fair
Following up on its ongoing exhibition of "Young Woman Artists," Wonder Fair will host another group of YWAs Friday evening: Young Woman Authors.
From 7 to 9 p.m., a group of local female writers will read from their works in the Wonder Fair gallery, 803 Massachusetts St. Featured authors include Amber Brejcha-Fraley, author of "From Kansas, Not Dorothy," and Megan Kaminski, a Kansas University assistant professor of poetry and author of "Desiring Map."

The "YWAs: Young Woman Artists" works will also be on display that day from noon to 10 p.m.
The purpose behind the original YWA show is to bring awareness to the disparity between male and female artists' representation in regional galleries. Turns out, a similar gap exists in literature — a four-year study by VIDA, a women's literary organization, found that "stories by male authors appear in leading publications at an alarmingly high rate compared to stories" by their female counterparts.
Hobbs
Visitors to Hobbs, 700 Massachusetts St., can expect "a cascade of vivid, retro-radioactive non-stop modern art excitement" this Final Friday.
The store is featuring Lawrence artist John Geery, a Stull native and Kansas University alumnus. His colorful paintings and prints often incorporate vintage cars, pin-up girls and cartoon-like imagery.
Lawrence Percolator
Local artist Rachael Perry will bring her interpretation of the global Inside Out Project to the Lawrence Percolator, in the alley behind 913 Rhode Island St. just south of the Social Service League.
Perry will set up her camera at the Percolator's Final Friday event as part of the Inside Out project in which she's trying to capture hundreds of local faces in simple black-and-white photographs along with a quote about what role they play in the art community.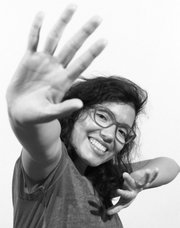 "As we all know, there's so much more that goes into it than just the artists," Perry told the Journal-World earlier this month. "We all love the arts. I have seen how Lawrence has changed because of all the artist people in our community."
Her subjects aren't just limited to fellow artists. Perry also encourages art enthusiasts and supporters to join the project.
The Bottleneck
The Bottleneck will showcase Lawrence artists Naomi Welch and Landon Merrill. Visitors can stop by the venue, 737 New Hampshire St., from 5 to 8 p.m. Friday evening.
The current works of Welch, an internationally shown artist, predominantly feature ink and watercolor. A resident tattoo artist at Ichiban Tattoo Studio, 1912 Massachusetts St., she "owes her strong desire to pursue personal truth on a universal scale" to her time at Willem de Kooning Art Academy in the Netherlands.
Merrill, a graphic designer and artist, draws his inspiration from surrealists, printmakers, comic illustrators, tattoos and graffiti. His style consists of "organic line work, intensely detailed illustrations and condensed compositions."