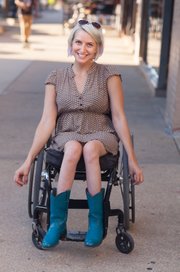 Name: Rebekah Taussig
Age: 28
Hometown: Kansas City
Occupation: I'm a grad student at KU (studying)... English, literature and creative writing.
Dream job: I want to do creative writing workshops.
Relationship status: Oh geez
What were you doing when scouted? On my way to work with a friend
Describe your style: I wear turquoise boots almost every day, I get all my clothes from thrift stores mostly and I like to wear dresses. I'm just drawn to anything that looks like I have never seen it before.
Fashion trends you love: I'm not very good at that kind of stuff because I like things that I like. I just bought this really weird tank top the other day that was way too big for me and it has monkeys on the top. I don't think that it's a style trend, but I like it. ... I like skinny jeans that have a lot of elastic.
Fashion trends you hate: There are lots of them like high-waisted mom shorts. I feel fine with other people wearing them but I just couldn't bring myself to put them on.
Fashion influences: My soul! I don't know. Probably, if there was a source, it would be Pinterest.
What would you like to see more or less of in Lawrence? I think Lawrence is good at people being their individual selves. So more variety! Less construction.
Tattoos or piercings: None
Whom do people say you look like? I've been told that I look like Sarah Jessica Parker and Barbra Streisand.
What type of music do you like? Folk music
Tell us a secret: I use swear words more than anybody would know. I hope my sweet mother doesn't read this!
More like this story on Lawrence.com