Photo Gallery
Top 10 wonders of the Lawrence food world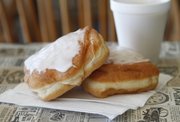 What are the top 10 wonders of the Lawrence food world — our city's most iconic, most delicious, most notorious, must-have, can't-miss, original-to-us menu items? Here's our list.
Reader poll
Bill Self pasta at 23rd Street Brewery

4%

20 votes

Biscuits and Gravy at Wheatfield's Bakery

5%

26 votes

Cheddar Ale Soup at Free State Brewing Company

12%

63 votes

Cream Cheese Donuts at Munchers Bakery

30%

147 votes

Johnny Wilson burger at Johnny's Tavern

5%

25 votes

Phad Thai at Zen Zero

4%

21 votes

Rock Chocolate Jayhawk ice cream at Sylas and Maddy's

1%

9 votes

Texas Burrito at Border Bandido

10%

49 votes

Truffle Fries at the Burger Stand

14%

72 votes

Wang Burger at the Wheel

3%

18 votes

Other

7%

38 votes
488 total votes.
What are the top 10 wonders of the Lawrence food world — our city's most iconic, most delicious, most notorious, must-have, can't-miss, original-to-us menu items?
We posed the question to local foodies, restaurateurs, chefs, Journal-World staffers and online readers. Our informal survey raked in suggestions galore. To carve out the final list, we asked ourselves:
• Is it unique to Lawrence? Chain restaurants, unless they began here, were out.
• Has it been around awhile? Just-opened restaurants — no matter how hot — also out.
• Is it famous? Can't really call something iconic if only a small minority knows about it.
• Finally, is it good? Subjective, we know. But remember, different people have different tastes. And "good" doesn't necessarily mean "fancy."
There were lots of worthy contenders (especially in the pizza and burger categories — #collegetownproblems), but unfortunately we couldn't include them all.
So without further ado, here's our list and we're sticking to it.
925 S. Iowa St., Suite M
This one-of-a-kind pastry — imagine a jelly doughnut crossed with a cream cheese Danish — has had about 35 years to build up its die-hard following. "It just kinda goes with the place," Munchers owner Mike Tennyson Sr. said of the famous doughnut he's made from scratch for 25 years, after inheriting the recipe from the bakery's previous owners. "People throw a fit when we're out."
Its dough is the old-fashioned kind: toothy and golden brown. The not-too-sweet filling tastes like real cream cheese, not weird gelatinous mystery goo. If you are one of the many Lawrencians who agree there's nothing better than a Munchers Cream Cheese Doughnut (the landslide reader favorite for this list), try the strawberry version they just started making. Mind = blown.
636 Massachusetts St.
Another shoo-in, though picking just one iconic dish from what is arguably Lawrence's most iconic restaurant was tough. This dish stars two of Lawrence's most favorite things: locally brewed Free State Ad Astra Ale and melted cheese. It's been on the menu for ages at the brew pub.
803 Massachusetts St.
Burger Stand has, like, eight kinds of fries. These are a fan favorite for their savory seasoning and all-around, well, umami. Many enjoy them paired with the Stand's famous Smoke Burger — or sometimes just on their own.
507 W. 14th St.
Bacon, cheese, fried egg and burger patty on a white bun. Is it unique? Nah. Is it good? Sure. Is it famous? Yep. Not only is the Wheel a regular on best-college-bar lists, ESPN crews have been known to stop by for Wang Burgers and talk about them on national TV — this burger has gotten more airtime than some KU basketball players.
1528 W. 23rd St.
What makes this a "Texas" burrito? "It's big," says restaurant owner Mark Arndt. Border Bandido (called Don Chilito's its first few years) has been in business since 1970, starring this 10-inch burrito — which has since spawned the even-bigger 12-inch "Super" and 14-inch "Intimidante" versions. "Some things don't change ... and that's for the better!" one Lawrence Marketplace reviewer says. "The original Texas Burrito tastes the same today as when I first had one in high school in the 1970s. In fact, I think they're still using the same plates and hardly changed the decor since then either..."
904 Vermont St.
Lawrence is full of yummy biscuits and gravy, several of which were nominated for this list. But Wheatfield's biscuits alone elevate theirs above the rest. Golden, fluffy, colossal — nobody, and we mean nobody, can bake a biscuit like Wheatfield's. (The gravy isn't bad, either.) Get there early, because this dish is no secret. They often sell out.
401 N. Second St. and 721 Wakarusa Drive
Sure, this burger is named for the colorful founder of what may be Lawrence's most iconic bar (Johnny's opened north of the river in 1953 and now has nine locations, all featuring an old-timey looking Johnny Wilson in their logos). But it's also legitimately dang good. Swiss, cheddar, bacon. Bam.
3512 Clinton Parkway
Matt Llewellyn, managing partner at the brewery, doesn't have scientific polls to prove it but says this about the Bill Self pasta: "It's probably the most ordered dish in Lawrence, Kansas." Making up 7 percent or so of the busy brewery's total sales, he said, this dish features fiery-hot buffalo fried chicken tenders over creamy big-shell mac 'n' cheese. It can only help to be named after Kansas University's beloved, national championship-winning men's basketball coach Bill Self.
Rock Chocolate Jayhawk ice cream at Sylas and Maddy's
1014 Massachusetts St.
Summer in Lawrence simply is not complete without a walk down Massachusetts Street, homemade waffle cone piled with Sylas and Maddy's ice cream in hand. Rock Chocolate Jayhawk is a best-seller, especially for chocoholics — there's practically more brownie pieces, fudge chunks and chocolate swirl than ice cream packed into a scoop of it.
811 Massachusetts St.
Readers recommended everything from Zen Zero's Drunken Noodles to its Vietnamese Spring Roll Salad, but the most popular nominee was Phad Thai. Zen Zero staff can tell. Owner Subarna Bhattachan: "Some days we make a Phad Thai every 5 minutes."
---
Honorable mentions
Kansas Roll at Wa: A spicy sushi roll that comes on fire, it's Wa's most popular dish.
Shrimp Po' Boy at Terrebonne: Tasty enough to be more famous, but after all, Terrebonne is Lawrence's Best Kept Secret (per Best of Lawrence 2012).
Hot wings at Henry T's: Standing room only at Henry T's wing night, every Wednesday since 1992.
Saganaki at Mad Greek: Flaming cheese — opa!
French toast at Milton's: One of Lawrence's longstanding-est breakfast traditions.
Any burrito at Burrito King: Massive. Drive-thru. 3 a.m. Cheap.
Bonez at Pyramid Pizza: Better than cheesy breadsticks. Maybe even better than pizza?
Tortellini Cordon Bleu at Basil Leaf Cafe: Helped Basil Leaf build a cult following despite its original location being in a gas station.
Yello Sub at Yello Sub: Namesake sandwich at another Lawrence icon. (While we're at it, RIP Yello Sub at the Crossing.)
Lunch buffet at India Palace: Just, yeah, the whole buffet.