The brutal sauna of summer awaits us just around the corner. Luckily, Lawrence has a variety of places to keep you cool when temperatures and humidity rise.
Lawrence's downtown Outdoor Aquatic Center is a great place to swim laps in the morning or cool down after a long, hot day (entry fees range from $3 a day to $186 for a season pass). Or, if you prefer sandier locales, you can sit back and relax at Clinton Lake's 1,000-foot swimming beach ($1 per day). While both opened over Memorial Day weekend, it isn't too late to get ready for a beach-filled summer.
Swimwear
A solid pair of trunks is the most important piece of swimming attire. For years, board shorts inundated America's shorelines, but as of late there has been a resurgence in vintage-style swimwear. In general, the trend has been shorter and snugger. But since there is a good chance none of us can pull off Daniel Craig's "Casino Royale" trunks, I recommend a seersucker-patterned swim short that hits a few inches above the knee.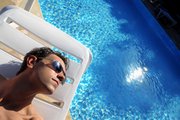 Tank tops
Great-looking swim shorts can easily be overlooked if worn with a ratty-old undershirt. Instead, opt for a tank top.
While notoriously associated with fraternity boys, tank tops deserve a better reputation. Meant to keep you cool in the summer, they're great at the beach.
Avoid logos and branding and keep to solid colors or simple color blocking. And if you're worried about how your arms look, you can always do a few push-ups before heading out to give your arms the appearance of being a bit more toned.
Sunglasses
No beach visit is complete without a pair of shades.
Sunglasses tend to be a touchy subject with people. There are those who prefer to buy cheap pairs of shades each summer for fear of breaking or losing them, and there are those who spare no expense, intending to keep their sunglasses for a lifetime.
If you're willing to invest in a pair of shades, I highly recommend Ray-Ban New Wayfarers and Ray-Ban Aviators. Guys with slightly narrower faces should try Ray-Ban Cockpits. Each are classic, available downtown, including at Wink (806 Massachusetts St.), The Etc. Shop (928 Massachusetts St.), and Shark's Surf Shop (813 Massachusetts St.), and range between $130 and $200.
Be sure to try on several pairs, though, and check the sizes, as width and lens size varies.
Flip-flops and other accessories
Hot asphalt and sandy beaches can be painful for bare feet. To prevent yourself from tip-toeing and hopping around the water, be sure to wear a nice pair of flip-flops. You can't go wrong with a pair of single-layer leather Rainbow Sandals (Shark's, $51).
Wherever you decide to cool down this summer, don't be caught relaxing beachside without a good book in hand. The discerning folks at Raven Book Store, 6 E. Seventh St., suggest "Every Day is for the Thief" by Teju Cole ($23).
Last, but not least: Always apply sunscreen to keep your skin looking young and healthy for endless summers to come.
— Nicholas Cunigan is a Ph.D. candidate in early American history at Kansas University. He blends classic fashion with modern details on a low-cost budget.