Fruit-producing plants that bloom abundantly, but do not set fruit, may indicate a shortage of pollinators like butterflies, bees, wasps, etc. I have seen this happen to even zucchini plants, and in late summer this may be of benefit. Incorporating plants beneficial to the "good" insects should be a part of any landscape, and not just for the fruit but for better, larger flowers.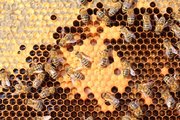 Beekeeping is a new activity for many but continues to be a fun and rewarding one for those who enjoy gardening. It can easily lead to honey on the table, beeswax candles, skin cream and cosmetics made from your own hives. The art has been around practically forever.
But I don't want bees in my yard. They will sting me, my children and my pets. Bees are not out to get you, but they will protect themselves when disturbed. Brambles, thorns, mosquitoes and yellow jackets are just plain nasty. Dogs bite and cats scratch, but we have learned to accept these facets of gardening. We prepare with mosquito repellent, long pants, gloves and learn not to tease pets. So too with bees.
Each year, NEKBA (North East Kansas Beekeepers Association) conducts a beekeepers' program — the NEKBA Bee Fun Day — for folks interested in the wonderful world of beekeeping. This is a great way to learn more about beekeeping and meet many talented and "seasoned" beekeepers in the area that are known and recognized at the local, regional and national levels. This year's event will be held from 9 a.m. to 5 p.m. June 7 at the Douglas County Fairgrounds, 2110 Harper St.
If you are not into beekeeping, why not just bee attraction? The Douglas County Master Gardeners are working to help with that. Native plants in your landscape are certainly a start in the right direction. The Master Gardeners will have over 1,000 native plants for sale at reduced prices to encourage their use and promote their benefit. This sale will also be held from 9 a.m. to 1 p.m. June 7 at the Douglas County Fairgrounds.
Plants include coreopsis, coneflower, verbena, and aster, to name a few common ones with many varieties of each.
— Stan Ring is the Horticulture Program Assistant for K-State Research and Extension in Douglas County. Extension Master Gardeners can help with your gardening questions at 843-7058 or mastergardener@douglas-county.com.
More like this story on Lawrence.com