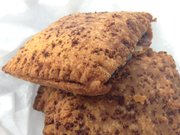 It's true; anything can be deep fried these days. At Tad's Pizzeria, one of their dessert offerings is deep-fried s'mores, or three large cookie pouches of chocolate and marshmallow. The graham-cracker coating resembling a toasted ravioli is crispy around the edges but soft in the center.
This is a less messy version of the traditional s'more, but once broken through the outside, the warm, swirly chocolate and marshmallow insides will likely coat your fingertips.
Where to get it: Tad's Pizzeria, 1410 Kasold Drive
What you'll pay: $3.75 for three; $7 for six
Try it with: A glass of milk, if you take it to go.
Also on the menu: A variety of bread knots including garlic, Parmesan, oregano and jalapeno; an assortment of fried foods including regular and topped fries, fried pickles, onion rings, fried mushrooms and mozzarella sticks; specialty pizzas including the vegas (onions, tomatoes and basil), the big pig (sausage, bacon and ham) and the hangover (ham, bacon, onions, green peppers and eggs); calzones; and hot dogs. Other desserts include cookies, funnel fries and fried raspberry cheesecake bites
— Off The Beaten Plate highlights some of the more exotic, oddly named or inventively concocted dishes from local menus. Know of an offbeat item we should check out? Email food and features reporter Nadia Imafidon at nimafidon@ljworld.com. Follow her at Twitter.com/nadia_imafidon.