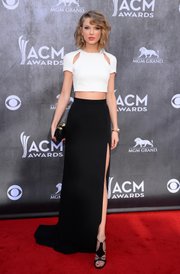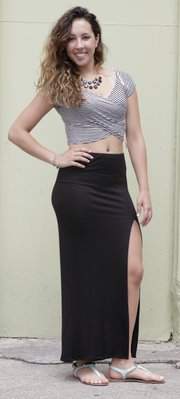 It has been two years since Taylor Swift's latest album, but she continues to make waves in the fashion world with her fun, fresh look.
Swift can often be seen in high-waisted skirts and shorts paired with crop tops. This look can be replicated with a trip to Envy, 911 Massachusetts St., in downtown Lawrence.
Katie Glas, Envy store manager, said you need a high-waisted maxi skirt to achieve this style.
"It's a definite must have," she said. "We can hardly keep them in stock."
These maxi skirts come in a variety of fabrics and patterns. And at Envy you can purchase one for less than $20.
Glas predicts that the maxi skirt will be on trend throughout the spring and summer. These skirts are loose-fitting and comfortable.
"It's good for the summer because it's an effortless look," Glas said. "I like that you can mix and match them. You can have one skirt and pair it with any shirt in your closet."
To top off Taylor Swift's look, Glas recommends a black and white crop top, which you can purchase at Envy for $16.98.
Glas said women who are hesitant to wear a crop top can still pull off this look. A longer, loose crop top can be worn with a cami underneath. If you wear the skirt higher, you won't have to worry about any midriff, Glas said.
To achieve Taylor Swift's trendy bob, stylist Cherilyn Farris, a stylist at the Color Studio, 2330 Yale Road, recommends using a texturizer, such as Bumble and Bumble's (Un)dressing Creme or Surf Spray.
"The beach head is what's been taking over lately," Farris said. "We are not seeing as many structured bobs."
If you don't want to commit to a short cut, a faux bob can create a fun summer look. To create a faux bob you need to have short layers, a curling iron (or curly hair) and lots of bobby pins.
"You want to start by curling your hair," Farris said.
Once curls are in place, Farris said you need to create a tight bun at the nape of your neck with the bottom layer of hair. This creates the base of the bob. From there you simply tuck and pin hair into the bun to create the illusion of a bob. You can leave the short layers out to create a loose, beachy look.
— Arley Hoskin is a Kansas native who loves art and fashion. She prides herself in finding trendy styles on a journalist's budget.