Best Bartender
David Johanning
17 E. Eighth St.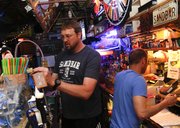 Even if you aren't necessarily a regular at The Sandbar, it's likely you've interacted with 6-foot-10 bartender Dave Johanning, a former center on the Kansas University basketball team who's been mixing drinks for 20 years now.
He's not only behind the bar three nights a week pouring your prized Shark Attack or Dirty Banana and facilitating the indoor "hurricane," but he's been managing partner for the past six years.
As a top contender for best bartender for a few consecutive years, Johanning has a hunch it has to do with his lengthy career and how much he enjoys being a goofball.
"I've been around a long time," he said. "I've gotten to know a lot of people, and I enjoy being around people. Anyone can make a drink, but if I'm having fun, people are going to have fun with me."
Johanning said he wins over customers by embracing opportunities to dance around and be cheesy, two qualities some bartenders shy away from. It keeps the nights from becoming monotonous. Every night is a new experience, whether he's introduced to those who have traveled from afar or to a crowd celebrating a 21st birthday.
Reed Niemack
729 New Hampshire St.
For someone who has only been in the bar industry for four years and actually behind the bar serving the drinks for just two, it came as a bit of a surprise to Reed Niemack that he was tied for first place in the best bartender category.
"Definitely something I was not expecting, that's for sure," Niemack said.
But as the Leroy's Tavern bartender sees it, it never hurts to be a friendly guy. After all, he says, everyone wants to get along with the bartender, and if you're genuinely nice to those who come in, they are likely to keep coming back.
"Half, if not almost two-thirds of the job is to engage the patrons in some kind of way," Niemack said, whether it's talking or even just smiling at the customers.
"You should make them feel special, and actually care about what they have to say."
The 25-year-old student appreciates the chill, laid-back pool hall atmosphere of Leroy's, which opened last year in the former Barrelhouse space at 729 New Hampshire St., with at least 10 coin-operated pool tables, dart boards, a couple of foosball tables and several arcade games.

It's the exact opposite of his former place of employment, where he worked large, boisterous crowds that were nearly impossible to chat with.
"I like to actually get to talk to people in bars, instead of having to yell at them," he said. "I know a lot of our regulars here."