Best Bike Shop
804 Massachusetts St.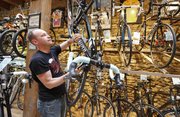 There's something about the interior of the Sunflower Outdoor & Bike Shop that makes you want to head back outside right away. That's a good thing.
The 19th century walls flash exposed rock and brick, and they're festooned with bikes, backpacks and canoes. Natural lighting shines down from above. It's enough to make anyone want to grab some of that outdoor gear and split.
"We have a great space, to be sure," owner Dan Hughes said. "It's not your typical bike store in terms of ambiance."
Sunflower has more to it than looks, of course. It's filled with all sorts of nifty products, selected by Hughes' staff of outdoorsy "nerds," to meet your trail-running, biking, camping and paddle-sport demands.
But this store doesn't just sit back and wait for you to come to it whenever you want to hit the trails. The staff hosts weekly workshops on bicycle maintenance, visits schools to repair bikes and fit helmets and is active in supporting efforts to maintain and produce maps of local bike trails. Anything to "get people off their butts."
"We believe life is better outdoors," Hughes said.