Best bookstore
708 Massachusetts St.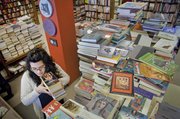 Shannon Jones says it's common for businesses to thank their customers for their success. But in the case of The Dusty Bookshelf, there's more to it than that.
"Most of our stock comes from the community," she said of the used book store. "The store is based on who our customers are and who our neighbors are. That's what makes us stand out a little bit more."
Since 1996, those customers have been the ones bringing in books they want to sell or trade, and buying the books that others have enjoyed once and passed along. The result is a bookstore in the heart of downtown Lawrence that typically has upwards of 60,000 titles on the shelf, spanning nearly every genre.
Sadly, though, one thing customers will no longer find in the store, but which had been a fixture, is the famous cat Alice, who passed away earlier this year.
"That definitely was something that showed how much of a community-based store we are," Jones said. As the news spread, the store was overcome with sympathy cards and comments from what she calls the "Fans of Alice."
"I guess I wasn't shocked, but really heartened by all the comments and everyone coming in. I really saw how much our customers loved Alice."
That kind of loyalty and sense of community may help explain why the Dusty Bookshelf has been voted the best bookstore two years in a row.