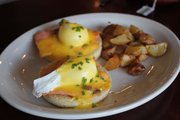 Best Place for Breakfast
920 Massachusetts St.
When The Roost opened in July 2013, the breakfast restaurant had some big frying pans to fill.
For 15 years the building had housed Lawrence brunch restaurant Milton's Café, where Roost co-founder and manager Manda Jolly worked for 11 years and met her husband, Sean, Roost co-founder and head chef.
Jolly said the building's history added to the restaurant's success, but opening The Roost brought an opportunity for change.
"Milton's set the stage as a reliable breakfast place," Jolly said. "We were familiar with the space and knew the things we wanted to improve."
The Roost is markedly different from its predecessor, though, with a full bar and a bloody mary cocktail menu, large bakery with a wholesale menu and new twists on classic breakfast foods.
Jolly attributes The Roost's quick success to its community atmosphere and collaborative staff. Jolly said she and her co-founders Ken Pingleton and Sean Jolly shared a vision of combining exception hospitality with great food.
"We have a small-town feel," Jolly said. "Kenny, Sean and I work hard to make sure to say 'please' and 'thank you' every day to our fantastic customers and especially when it comes to our incredible staff."