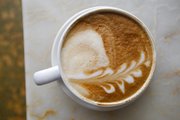 Best Coffee
638 Massachusetts St.
Some drink their coffee leisurely in the morning with a French pastry and a newspaper. Others need it mainlined into their bloodstream. But regardless of where you land on the scale of coffee enjoyment, La Prima Tazza is Lawrence's choice for fulfilling its caffeinated desires.
It's the first and oldest coffee shop in town, Manager Nicole Reiz said.
"We've kept a very strong local following and been very consistent."
And that consistency pays off. It's a charming place, with a well-worn tile floor that complements the dark wood counter carrying loads of coffee beans and displays of delicious treats. The gleaming espresso machine (the best in town, Reiz said) churns out the quality espresso they're known for, while the chalkboard menu displays other classic beverages that Lawrencians love to choose from (like the popular, minty-fresh Iced Grasshopper).
In addition to the coffee, the atmosphere keeps customers coming back.
"We let our baristas deejay in there," Reiz said. "It gives every shift its own flavor."
The shop staffs one barista at a time behind the counter, so regulars get a special kind of service, Reiz said. "Our customers get to know us very well and it fosters the atmosphere. We know your drink order and we know you by name."
By staying true to its roots and making some great coffee, La Prima Tazza has made itself the place for coffee lovers of all kinds.