Best Fast Food
3 locations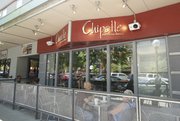 The days of wimpy hamburgers squashed between defrosted buns and topped with tiny "onions" are long gone. Dude, it's 2014.
And in a college town like Lawrence, the fast food chain that's destined to rule the scene is one that balances fresh, locally sourced ingredients with burritos fatter than a bodybuilder's forearm.
Behold: Chipotle, fast food champ of Best of Lawrence 2014.
For Miranda Rice, who grew up in Lawrence after her parents met at Haskell Indian Nations University, helping manage the flagship downtown location is more than a career builder — she's planning to open a Chipotle of her own someday.
That would make four of the restaurants in Lawrence, but business is so off the charts, Rice thinks we can handle it.
"With our company, there's one opening every one to two days somewhere across the nation," Rice says.
And it's not just the burritos, tacos, bowls, quesadillas and that famous guac. Rice says one of the most popular menu items at the Massachusetts Street spot is actually the Patron margarita, helping make it happy hour all day long.
"Oh yeah, we go through a ton of those," she says. "We actually have several downtown bartenders who say ours are the best." (We're not telling.)
And for the less adventurous: "Our water's free, and it's good, too," Rice jokes.
More like this story on Lawrence.com