Best Fine Dining
715 Massachusetts St.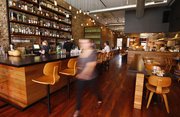 The restaurant known simply as 715 has been called a "European bistro in downtown Lawrence," with a menu that is like "peasant food fit for a king." And for the next year, at least, it can be called the best place for fine dining in Lawrence.
But there is nothing poor about the menu, or particularly regal about its prices. And while the handmade pasta and aromatic pizza might give it a certain southern European flavor, it also offers solidly American fare, such as pigs in a blanket, roast beef sandwiches and KC strips.
In business since 2009, 715 is the creation of general manager Matt Hyde and chef Mike Beard, whose background growing up in Oklahoma, training in Italy, and living in Kansas for the last 20 years accounts for the restaurant's unique blend of cuisines.
Hyde says another key to the business is 715's own butcher, Lee Meisel, who grew up in a family that owned a butcher shop in the Dakotas.
"Between his skills, Michael's skills and also our sous chef Zach Thompson, they're able to do things with whole animals where we don't waste a single bit, and also come up with unique preparations and cuts that only people with that kind of experience can offer.
Each week, Hyde said, 715 receives a whole pig, two lambs, several chickens and ducks, along with about 30 to 40 rabbits each month, and an occasional side of beef, all of which are cut and prepared at the restaurant.
Hyde admits Lawrence has a surprisingly large number of fine-dining restaurants for a city its size. But he says there's also a growing camaraderie among of the local chefs and restauranteurs that helps promote the city's cuisine beyond the city limits. And as a result, many of them, including 715, are now drawing customers almost daily from the Kansas City and Topeka areas because they enjoy shopping and dining in Lawrence.