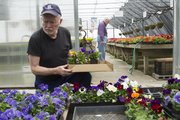 Best Gardening Store
1321 N. Third St.
On the outskirts of Lawrence sits Howard Pine's Garden Center, Lawrence readers' top garden store.
The business carries a wide variety of annuals, perennials, vegetables, fruit trees and shrubs, all of them seeded and grown at Pine's.
"Everything you see out here is planted here," says store Manager Gus Walton.
What started as a one-greenhouse operation back in 1962 has grown into a thriving business with 11 greenhouses over four acres. The seasonal store usually closes up by September and reopens by mid-February, Walton says.
After more than 50 years in business, the store is still family owned. Gerrald Pine, Howard's son, took over the shop in 1968 and has been running things there ever since.
Throughout the years, employees have maintained a sense of "pride in our plants," Walton says.
"Customers always tell us how organized it is," Walton said. "We keep everything neat, and we take very good care of the plants."