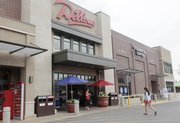 Best Grocery Store
Four locations in Lawrence
Fresh food, wide variety, digital coupons, low prices and how about those fuel points?
Dillons, with its four stores in Lawrence, gets the nod for best grocery.
Aside from delivering a high-quality product at a competitive price, Dillons' success also depends on making grocery shopping hassle-free.
"Our commitment is to connect with our customers and make their shopping experience more convenient," said Sheila Lowrie, a spokeswoman for the Hutchinson-based Dillons, a division of The Kroger Company.
That means friendly service and fast checkout, she said. "We know that when you are shopping, the last thing you want to do is wait in line," Lowrie said.
Dillons has been operating in Lawrence since 1960. Its first location was the store at 1740 Massachusetts St., which was recently torn down and replaced with a new store that opened in 2012.
The store at Sixth and Wakarusa was remodeled and expanded in 2009, and the one at Sixth and Lawrence was renovated last year. The other Dillons in Lawrence is at 1015 W. 23rd St.
Lowrie said the Dillons teams in Lawrence have a passion for providing friendly service and the company is honored to be recognized by its customers.