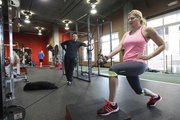 Best Gym/Fitness Center
901 New Hampshire St.
When Scott Elliott and Chad Richards opened The Summit in 2012, Elliott said they wanted to change the way people thought about gyms.
"We wanted to kill the common stereotype of a gym," Elliott said. "At most gyms, people just come in, work out and leave. We wanted our customers to know the equipment and own it."
To do so, The Summit offers a knowledgeable staff available for questions, a trainer on your first session to show you the ropes and QR codes on each machine that can be scanned to see an instructional video on how to use the equipment. Members also have unlimited access to The Summit's exercise classes, boxing ring, infrared saunas and rock-climbing wall.
But Elliott and Richards didn't stop with the gym. The Summit contracted with outside businesses to offer a broad array of health services in one location, including nutritional support, massage therapy and physical training.
"We wanted to come together to meet and provide all facets of fitness," Elliott said. "That's not a very easily implemented idea, but we work hard to create a pinnacle of health."
Elliott attributes much of the Summit's success to its dedicated employees.
"Our outstanding staff is unbelievably hospitable, which creates a community feel," Elliot said. "We have the nicest staff west of the Mississippi, but maybe I'm biased."
– Caitlin Doornbos can be reached at 813-7146