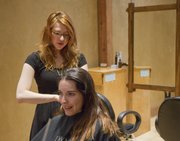 Best Hair Salon/Spa
731 Massachusetts St.
After more than a decade of business, Salon Di Marco took home its first Best of Lawrence award last year. But the full-service salon and day spa was hungry for more.
Since winning first place in two categories at the 2013 awards, owner Carlos Castillo said the employees behind the salon's success made it their goal to ensure the honor stayed at Salon Di Marco this year.
"Winning set the bar high," Castillo said. "Now, anything less than first place is unacceptable."
But receiving such an award does not come without its challenges. Castillo said the downtown business had a high standard to live up to after its wins last year.
"We received new clients because of it and they had high expectations," Castillo said. "We had to meet that challenge."
In order to do so, Castillo said the team behind Salon Di Marco's hair styling, manicure and pedicure, skin care, waxing and massage services pitched in together, determined to offer superior service by relying on each other.
"Everyone took pride and ownership on the fact that they won last year," Castillo said. "They realized it's a group effort and did extra for the clients to make sure we kept it."