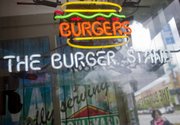 Best Burger
The Burger Stand at the Casbah
803 Massachusetts St.
Black and Blue. Smoke. Barnyard Bash. Lawrencians in the know hear those words and think "Burger Stand."
From humble beginnings in 2009 inside an Irish pub to its current residence at the Casbah, The Burger Stand has earned accolades. Manager Beau Burns attributes the success to the fact that these burgers push the envelope.
Rich, creative and massively flavorful, the secret is in the crazy toppings.
"We do all kinds of jams and tapenades and slaws, and it's a really eclectic collaboration of things you would never think to put together," he said.
While the regularly featured burgers, like the Fire Burger with habanero-cactus jam, are popular, the specials (pay attention because you never know when they'll show up) kick it up a little more. Burns said a fan favorite is the Elvis Burger, topped with banana foam, peanut butter and, if you'd like, bacon (making it the Fat Elvis). And a ground pork patty topped with blue cheese, spicy deep-fried pork belly, pancetta, peach jam, chicharrones and smoked bacon bits makes the infamous Porknado.
The creativity doesn't stop at burgers. There are plenty of fries, drinks and other main meals that get the same treatment, but it's the burgers that stand out. And it's that wild variety that helped The Burger Stand at the Casbah take the best burger title four years in a row.
"I've been all over the country and they're my favorite burgers," Burns said. "It's why I work here."