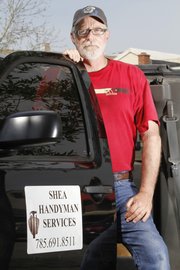 Best Home Handyman
825 Massachusetts St.
Patrick Shea, owner of Shea Handyman Services, does little advertising but gets as much work as he can handle.
"I get a lot of repeat customers and word-of-mouth customers," said Shea.
That may be the best testament for a handyman.
Shea won for the second consecutive year for best home handyman in Lawrence.
Shea started his business in 2009 after years of doing similar work for others. "The opportunity arose," he said.
When it comes to work, he'll do just about anything — fix running toilets, drippy faucets and squeaky doors, lay tile and do small re-model jobs.
"I like the small jobs. I'd rather have a whole day of those," he said.
Nearing 60 years old, he said he has learned, "I don't like heights nearly as much as I used to." Walking around on high-pitched roofs may be something he will give up soon, he said.
Shea said he looks forward to each day of work. "You just never know what you're going to do," he said.
More like this story on Lawrence.com