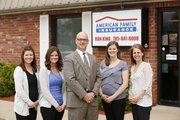 Best Insurance Agency
Ron King - American Family Insurance
3010 4 Wheel Drive
Ron King doesn't have a Flo or a gecko or some guy who is constantly running into mayhem, which in today's world of insurance makes him a bit unusual.
But the longtime Lawrence insurance agent does think he has something that helps him stand out.
"I think we just try to do what we say we're going to do," said King. "When people call us, we call them back. There is no magic to this stuff. You just try to treat people right."
It has worked for King as his Ron King American Family Insurance Agency has been voted the top insurance agency in this year's Best of Lawrence competition.
King has been in the Lawrence insurance industry since 1988, and he thinks he's developed a strong relationship with his clients by treating them in a way they can respect.
"I have never forgotten that people don't really like to buy insurance," King said. "I figure the least we can do is try to be real about it, and provide them with the information they need to get the best value they can."
But King said he also tries to remind people that insurance really isn't a commodity, despite the proliferation of online buying sites that primarily focus on the price of insurance.
"It is not bread or milk," King said. "It is a service. Ideally, you need to have the proper conversations to make sure you have the coverage you need. Someday people may find out the hard way that the insurance they have in place isn't what they needed."
King said the agency and its staff, which numbers three full-time and three part-time employees, was honored to receive the award.
"We feel like it is some validation for how we do things and the way we want to do things," King said. "We try to get better everyday. It is a life-long process."
— City reporter Chad Lawhorn can be reached at 832-6362. Follow him at Twitter.com/clawhorn_ljw