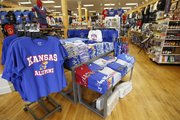 Best KU Souvenir Shop
921 Massachusetts St.
In a town packed with game day gear, Kansas Sampler store manager Kathy Mattan said it's imperative to offer anything and everything to her customers.
From Jayhawk water jugs to Wildcat wind chimes, Kansas Sampler has almost anything regional sports fans could imagine. Mattan attributes the store's success to its buying department, which allows customers to send notes requesting memorabilia of all sorts.
"We try to have everything for everybody," Mattan said. "Not only do we cater to KU fans, but we carry Sporting KC, Royals, Chiefs, K-State and Kansas souvenirs."
To keep up with the demand for sports gear in a college town, Kansas Sampler also makes its own exclusively designed shirts. Currently, Mattan said it's the Kansas Sampler-made "10 Straight" T-shirt that is flying off the racks.
"We always want the hottest, newest stuff," Mattan said, "Sometimes that means having something you can only get at Kansas Sampler."
With so much competition in the area, Mattan said she was honored that the store was selected for Best of Lawrence.
"There are lots of places you can actually buy KU stuff in Lawrence," Mattan said, "so to be picked is awesome."