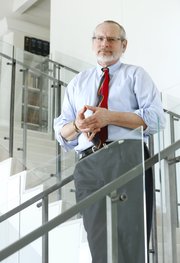 Best Lawyer
David J. Brown
1040 New Hampshire St.
Lawyers across the country tend to get a bad rap for being less than honest. But in Lawrence it's different, says David Brown of the Law Office of David J. Brown.
"As a community, the lawyers in this town are great," Brown said. "Lawyers in many places are not so honorable, but in Lawrence they're helpful, they're honest."
Brown joined Lawrence's lawyering community when he opened his office in 1992, after working as a reporter and editor for a decade. His practice focuses on family law, and he often represents families from the LGBT community. Part of his firm's goal is "to help establish the legal rights for our clients that all family members want, expect and deserve."
As a lawyer, Brown said he gets to help people directly, by working with them one-on-one. "The fact is my clients are not all the same," Brown said. "I try to adapt and deal with their issues in a way they appreciate."
Brown gets involved in the community as much as he can, likely one reason why folks around town know his name and his practice.
"My thinking is I owe a great deal to the community, I owe a great deal to Lawrence," Brown said. "When you give back to the community you live in, people appreciate that."
More like this story on Lawrence.com