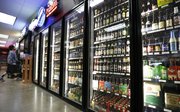 Best Liquor Store
1816 Massachusetts St.
The ownership at On The Rocks claims to be among the first to bring the concept of a large discount superstore, mix-and-match beer options and a beer cave to Lawrence when the store opened in 2009. Along the way, the store added another distinction: Some of its regulars are of the four-legged variety.
"People bring their dogs here," the store's general manager, Matt Easley said, noting that many customers take their companions on walks to the store. So, over the years, the staff has taken to having treats on hand and water bowls when it's hot.
Aisles of liquor, wine and beer — and an expansive beer cave with an electric sliding door — await the dogs' owners inside.
"We felt like Lawrence needed a superstore concept," Easley said, referring to plans he hatched with his sister-in-law Jennie Storm, who is the store's owner. Nearly five years after its opening, the store has a party shop featuring cigars and drink mixes, hosts regular tastings and now serves as a wholesaler for area bars and restaurants.
"What we continue to hear is we offer really good service and a good variety," Easley said.