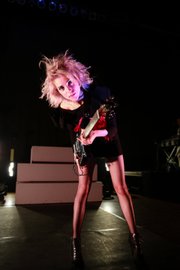 Best Live Music Venue
644 Massachusetts St
Because Liberty Hall is a hot spot for concerts, charity dinners, wedding events, ceremonies, receptions, class reunions and just about anything else, it makes sense that it reaches a larger audience than other venues in town, said events manager Dean Edington.
"We've done really about one of everything," he said. "We just started doing last year the Jayhawk Motorsports event with the unveiling of the car. It's like an awards show."
The wider range of people who come through the building — from elementary students on a tour of the space to adults seeing films — gives the venue a chance to make a great impression on the community.
"I think a lot of people have gone this cycle of coming through the hall, maybe as middle-schoolers they take a tour of the place, and they see a movie there, have their first date with a girl that they end up getting engaged to and have their wedding reception there," Edington said. "People have a lifelong attachment to the hall in the strange circle of life."
It is a top venue in town for both local musicians and fans. Local musicians are honored when they get a chance to open for one of the many national acts that play the hall.
"The chances for you to play at the hall are few and far between," Edington said. "The place is 102 years old and it's got a lot of history. More famous people have played the hall across the history of time than I think any other hall in town."