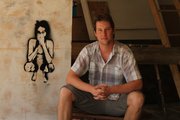 Best Local Artist
Though a recent Lawrence transplant (at least as far as Lawrence artists go), 30-year-old painter, illustrator, filmmaker and clothing designer John Sebelius has made a name for himself throughout the local arts scene.
The Topeka native graduated from the prestigious Rhode Island School of Design in 2006, and then obtained his master's in drawing and painting from Kansas University in 2012. He moved to Lawrence seven years ago; since then, he's brought in several grants and awards, shown his clothing line in area fashion shows, had two artist residencies (one at the Lawrence Arts Center) and created a handful of solo and group exhibitions, mostly located in Lawrence and Kansas City, Mo.
"This city really embraces artists, filmmakers and musicians, so I find it to be a great place to be inspired," Sebelius said. "There's a lot of excitement and innovation going on."
Last year, Sebelius premiered his documentary, "Welcome to Slab City, USA," a look at a California community made of old World War II-era Army barracks, at a film festival in Charlottesville, Va. He's currently taking this newfound love of filmmaking to the next level by creating a full-length documentary that follows a 62-year-old Topeka man searching for the next love of his life.
"I really enjoy the work I pursue and a lot of it involves people," Sebelius said. "I'm interested in individuals."
Sebelius is also interested in experimenting with different mediums, something he says keeps his artwork fresh. For his next show, a solo exhibition slated for the Lawrence Arts Center this August, he's incorporating video, painting and sculpting.
"I've been working on the show for about a year," Sebelius said. "It's a multimedia installation that uses video, paintings and sculptures to explore identity, sexuality and youthful debauchery. All of the work is inspired by images gathered from public Facebook profiles. It explores the need for people to put everything we do online."