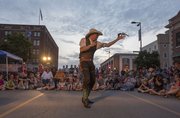 Best Local Event
Richard Renner, the man behind the Lawrence Busker Festival, has been working since 2008 to transform the Free State into the Freak State. And, as the fest has grown from three stages and a $2,000 budget to five stages and $20,000 over the past seven years, he may be succeeding.
"I think Lawrence, of all the places in the area, embraces the new, the different, the odd," Renner said.
During the three-day event every August, more than 18,000 people come out to watch as buskers entertain from stages situated throughout downtown. Fire breathers, acrobats, sword swallowers and other performers wow crowds with impromptu shows on sidewalks along Seventh, Eighth and Massachusetts streets. The event is free, but tipping the performers is encouraged.
One sure thing about the Busker Fest is that there's always something new. Renner is already betting on a satisfactory level of weirdness for this summer's festival, which will include a ping-pong rodeo and an appearance from The Checkerboard Guy, a Canadian busker who has performed all over the world.
As for why the fest continues to get bigger, Renner said it's simple: Everybody who comes out is entertained.
"We appeal to everybody," Renner said. "We have kids' workshops, and when the shows start in the afternoons, the families show up. When the shows go into the evening, the college kids show up. There's a pretty broad range."