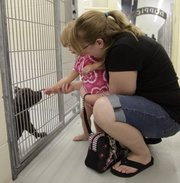 Best Local Non-profit
1805 E. 19th St.
The Lawrence Humane Society has seen big improvements in the past few years: It's employed a staff veterinarian, obtained new medical equipment, started a program transferring dogs from overfilled shelters and increased its number of live releases.
However, staff veterinarian and Interim Executive Director Jennifer Stone says there are still changes to be made, and her main focus is safety.
"This shelter has been around for a long time, but there's a lot more we can do to push the envelope on protocols and make them more solid in the next year or two," Stone said. "We have some plans and needs for the future."
One such plan is to get animals adopted faster by streamlining the medical program. The Lawrence Humane Society spays or neuters each of the animals that come in, and last year, Stone performed a total of 1,586 surgeries.
Also on her to-do list is amping up the dog transfer program, in which humane society employees pick up dogs from overcrowded shelters throughout the area and bring them to Lawrence. When the Lawrence shelter doesn't have room, the dogs are taken to larger shelters in Colorado.
In 2013, shelter employees made three trips across state lines.
"We can take them from shelters that just don't have as many resources, and that saves more lives," Stone said. "Once we get more organized I think this is really going to blossom."
Stone said a new executive director would be named soon, but she isn't waiting to get started making changes. She's moved the popular Catopia to a room in the front of the facility and added a space for cats that are in the final stages of recovering from illness or injury.
In addition, Stone has sent out the call for more foster homes (kitten season is upon us), and she's had an animal facility engineer come look over the building for any structural changes that need to be made.
"We have a lot of things cooking right now," she said.
— Staff intern Nikki Wentling can be reached at 832-7196.