Best Margarita
1819 W. 23rd Street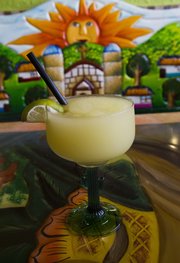 If you ask margarita lovers the secret to making the perfect cocktail, you're likely to get a variety of answers.
Some say the key is selecting the right brand of tequila. Others might say the key is using freshly squeezed lime juice, although that has been difficult and expensive to come by of late. And still others might say it's all about the atmosphere of the establishment that's serving up the drinks.
Whatever the secret is, El Mezcal seems to have found it. And manager Francisco Mendez isn't saying what it is.
"The secret is only for me," he says half jokingly.
But step inside the Mexican-style restaurant on any Friday evening after work, and it's easy to see why El Mezcal was voted as having the best margarita in town. You can work up a thirst just watching the wait staff maneuver amng tables, carefully balancing trays of the icy cocktails.
Mendez says most customers opt for the standard margarita, a mixture of tequila, triple sec and lime juice poured over the rocks into a salted margarita glass. But there are those who prefer the frozen variety, blended with ice to form a refreshingly cool cocktail that's perfect on hot summer evenings outside on the patio.
Recently, El Mezcal introduced a new variation that includes an inverted mini bottle of Corona beer that slowly dispenses beer into the drink the more you drink.