Best men's clothing store
901 Massachusetts St.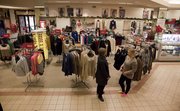 Wardrobe shopping at Weaver's department store has changed quite a bit since the retailer entered the clothing business 157 years ago: There's a lot less assembly involved.
"In the early days, our clothing department was just piece goods and bolts of fabric because everybody made all their clothes," said Joe Flannery, president of Weaver's.
Times have changed, but area shoppers are still impressed with the wardrobe they can assemble at Weaver's, minus the thread and needle work. The venerable downtown department store at Ninth and Massachusetts streets has been named the Best of Lawrence in the men's clothing category and came in second in the women's clothing category.
"We are humbled by it," Flannery said of the award. "It is nice to be recognized, and we will always strive to improve."
Weaver's is an independent department store, but has buying connections in both New York and Minneapolis to ensure the store has access to a variety of brands and styles, Flannery said.
"Being an independent allows us to be much more flexible in our buying," Flannery said. "We can react a lot more quickly to styles and trends."
The department store has been selling women's clothing since its founding 157 years ago, but it didn't enter the men's clothing market until 1962, when it acquired the men's shop of Carl's Clothiers, which was located next to Weaver's.
Today, both sides of the clothing business are a major focus of the store.
"We're constantly looking for new and up-and-coming lines," Flannery said. "We take a lot of pride in offering apparel that really appeals to the tastes and styles of Lawrence."