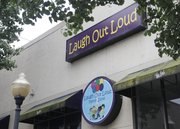 Best Place for Family Fun
1 W. 10th St.
While thinking up the idea for Laugh Out Loud Family Zone, owners Christie and Charles Peterson kept in mind the noisy arcade games, bad food and mindless play associated with many of today's kids entertainment venues.
They aimed to reinvent the standard play place into something that could both entertain kids and not repel parents.
"It's a comfortable place for everyone," said Christie Peterson. "It's an environment not just for entertaining kids, but it's a relaxed and comfortable place for adults."
The facility, located at 1 W. 10th St., includes a three-level climbing structure and playground, a traverse climbing wall, an interactive computer floor and a jumping pillow (essentially a bounce house without walls). There are also rooms designated for art, strategic board games, dance and karaoke. In addition, there's a stage with costumes and puppets, a nook for reading and doing puzzles, an area carved out for playing with dolls and another area with a train set.
"One thing that is really important to us and makes us more unique in the family entertainment arena is that we combine physical play with creative, dramatic, educational play," Peterson said.
The Petersons wanted to make sure that parents weren't left on the sidelines. Adults are welcome to play with their children on any of the equipment; however, comfortable seating and Wi-Fi access is provided in case they do want to sit out.
LOL offers a less obvious service to adults, too.
"It's a social environment for moms and dads who need to find support from other moms and dads," Peterson said. "It's a place where people new to town or new to childhood are able to connect with others."