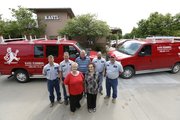 Best Plumber
4920 Legends Drive
Howard Kastl still remembers the day a client called his plumbing service — in Lawrence since 1971 — under direct orders.
"My grandfather and father used you and I'm supposed to, too," Kastl recalled the customer telling him. "It makes you feel good to take care of different generations."
Kastl Plumbing's services first spread by word of mouth only, Kastl said. The family owned and operated business expanded to serving Lawrence after years in the Kansas City area, when Kastl said he fell in love with the city while working a 50-house project.
In the company's first eight years in Lawrence, Kastl said, word of mouth spread so efficiently he didn't realize Kastl Plumbing had been hiding. Today, the business operates around the clock.
A given day can find Kastl Plumbing employees working sewer lines, cleaning drains and repairing faucets and water heaters.
"About absolutely everything," is how Kastl described the business' body of work.
Kastl Plumbing also runs a 24/7 emergency line at 841-2112.
"We're not going anywhere," Kastl said. "Our warranty is good because we're here to back it up."
More like this story on Lawrence.com