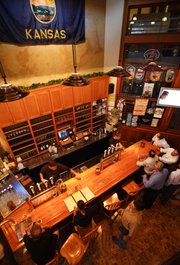 Best Restaurant
636 Massachusetts St.
In 1989, the Free State Brewing Company became the first legal brewery in Kansas since Prohibition, and it's been a fixture in downtown Lawrence ever since.
"Because without beer, things do not seem to go as well," according to the Free State motto.
But it's not just the refreshing craft beers — which are brewed right at the brewery that keep customers coming back. Free State is also known for its menu of flavorful sandwiches, salads, quesadillas and other entrees, including many vegetarian options, and many that are made with fresh, locally grown ingredients.
That helps explain why Free State has been voted the best restaurant in Lawrence.
As with any restaurant, though, service is the key to success, and Free State is known for its friendly and talented staff, from the greeters who seat you at the table, to the bartenders who pour the drinks, to the waiters and waitresses who manage to balance those large trays of dishes above their heads while moving gingerly among the crowded tables.
And for those who prefer the alfresco experience, Free State's patio is a popular place to gather and watch the street life of downtown Lawrence while enjoying a meal or just sipping a beer.