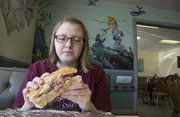 Best Sandwich
1814 W. 23rd St.
As we live a life of ease, every one of us has all we need... except maybe an amazing sub.
All Beatles jokes aside, Yello Sub has been a Lawrence institution since 1979, general manager Nic Beck said. Their staying power comes from the care the sandwich makers put into their work.
"The people that work here have a passion for it," he said. "We're doing good work here."
With all different types of meats, veggies and vegetarian options like tofu, Yello Sub sandwiches range from deli classics like a cheese steak to meatless delights like the Veggie Grinder.
"We have a lot of ingredients people don't have," Beck said, calling out the tempeh varieties in particular.
The Tempeh Parmesan sandwich includes tempeh (a tofu-like substance made with whole, cooked soybeans with a lot of protein), provolone cheese, marinara sauce and Parmesan. But the namesake sandwich, the Yello Sub, made of ham, roast beef, turkey, Swiss cheese, bacon, lettuce, tomatoes, Dijon mustard and mayonnaise, is the hallmark of the sandwich shop. Put it all on bread made daily from scratch in the Yello Sub bakery and "that definitely sets us apart," Beck said.
The decor makes diners feel like they're living beneath the waves in a yellow submarine. Sandwich lovers certainly go to Yello Sub for the best sandwich in Lawrence.
More like this story on Lawrence.com