Best Teacher
Laura Porter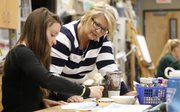 If teachers are judged by how effectively they transmit their passion to their students, then it's easy to understand how Laura Porter was voted the 2014 Best Teacher in Lawrence.
Porter, who teaches art at Bishop Seabury Academy, says that has always been her goal.
"I've always loved doing art and I've also always loved teaching," she said. "Art sometimes comes off as elitist, but I want students to know it's something everybody can experience and enjoy."
Porter has been teaching at Bishop Seabury since 2005. Before that, she taught at the Lawrence Alternative School for two years and at South Junior High for 16 years before that.
Seabury Head of School Don Schawang said Porter's passion for teaching can be seen in the work of her students.
"She is very focused on developing the skills of her students," Schawang said. "She does terrific work at bringing out skills of students in general. She comes up with clever, engaging ideas."
He recalled one project in which she had students draw caricatures of their teachers as animals, and noted that many of the teachers still have those drawings in their rooms.
Porter described that as "graffiti with a purpose." The works hung in the commons area of the school where they became topics of lively discussions, and artists were allowed to give presentations explaining what their works were about.
"I've always loved doing art and I've also always loved teaching," Porter said. "I'm a people person, so it just kind of fell together. Getting people to do what they don't think they can do is a big kick for me."