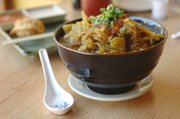 Best Vegetarian or Vegan Food
811 Massachusetts St.
When Zen Zero first opened 11 years ago, owner Subarna Bhattachan recognized it could fill a nice niche in Lawrence.
"When we opened, we realized we could cater to specific clientele," Bhattachan said. "There are a lot of vegetarians in Lawrence."
Bhattachan said it has never been difficult to cater to Lawrence's vegans and vegetarians.
"Asian and Thai cuisine is naturally geared toward vegetarian. In Asia, we eat a lot of vegetables," Bhattachan said. "We don't eat big steaks."
Zen Zero offers a large vegetarian menu and even meals on the regular menu can be tweaked for herbivores. For example, customers craving "Drunken Noodles" can swap the oyster sauce for ground bean sauce and all meats can be replaced with tofu.
Bhattachan said their ability to please the customer is made possible by their commitment to serving fresh food. The restaurant incorporates locally made organic food as often as possible in its dishes.
"We can be flexible because everything is made from scratch," Bhattachan said. "Flavor is what ultimately matters."
– Caitlin Doornbos can be reached at 813-7146
More like this story on Lawrence.com