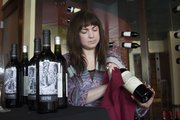 Best Wine List
800 New Hampshire St.
For Ken Baker, wine isn't just something you drink with dinner; it's a whole food group unto itself.
"Our wine list is concentrated around wines that I consider food-friendly," said Baker, the owner of Pachamamas in downtown Lawrence who also serves as its "sommelier," or wine expert.
There was a time when the wine list at Pachamamas ran up to seven pages in length. But in the past year or so, Baker said, he's pared it down to about 50 or 60 wines that are served by the bottle, plus several more that can be purchased by the glass.
The list ranges from a $22 bottle of a Spanish Segura Viudas to a $250 bottle of Dom Perignon, with lots of choices in between.
What's important, though, is not necessarily the price, but how well the wine complements the meal being served. And with Pachamamas' eclectic menu, that opens up a lot of possibilities.
"We're looking for more of a fruit profile — higher acidity, more balance," he said. "Wines that are both value-conscious and super versatile as far as food goes, more nuanced."
Baker said he studied cooking at the California Culinary Academy in San Francisco, and later studied wines under Doug Frost, a nationally recognized "master sommelier" based in Kansas City.
Finding just the right wine to go with a particular meal, and match a customer's particular taste, is what Baker does best. And he says the old rules about serving only red wine with meat and white wine with fish are now a thing of the past.
"All those basic rules got thrown out the window a few years ago," he said. "Food has changed so much and now has bigger flavors. So I can match a chardonnay with beef tenderloin or duck. All those things that used to be red-wine-only are not necessarily so any more."