The season of camping is upon us! Time for singalongs, skeeters and those gooey little treats known as "S'mores." If you're like a lot of folks these days, work and other responsibilities don't allow for much time off. These cookies will give you the taste of the campfire without the trek into the wilderness. My thanks to Bill Wiseman for the inspiration; I hope he likes 'em.
S'mores Cookies
2 sticks softened butter
1/2 cup sugar
3/4 cup packed brown sugar
2 eggs
2 teaspoons vanilla
2 1/4 cups flour
1 teaspoon salt
1 teaspoon baking soda
1 cup crushed graham crackers
1 cup milk chocolate chips
1 cup mini marshmallows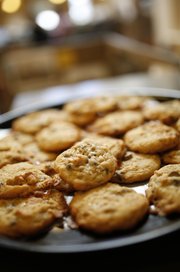 Heat your oven to 375 F and line a couple of big cookie sheets with baking parchment. Trust me on the use of parchment in this recipe. The marshmallows can go from melty to miserable mess in the blink of an eye. I tried just greasing the cookie sheets for the first batch; it ended in tears and swearing and mangled cookies.
Whirl the butter and sugars together until well blended, then toss in the eggs (minus shells) and vanilla. Beat this mixture on medium speed until it gets sort of fluffy-looking.
In a medium bowl, stir the flour, crunched-up graham crackers, salt and soda together. The graham crackers don't have to be all crumbs; you can leave some bits and pieces here and there. Add half of the flour mixture to the butter mix and blend thoroughly. Turn off the mixer and stir in the rest of the flour by hand.
Stir in the chocolate chips and marshmallows. If you want an extra chocolate kick, feel free to add more chips, but don't add too many more marshmallows.
Drop the cookie dough onto the prepared sheet, a generous spoonful at a time. Don't crowd them; the marshmallows make these cookies spread out and take up room. Bake for about 8 minutes, or just until the edges are golden brown and the tops show a hint of tan. Let them sit on the pan for 4 minutes, and then transfer the cookies to a rack to finish cooling.
Finish cooling? Yeah, right. We all know that chocolate chip cookies never finish cooling; they get eaten almost as soon as the oven doors open. It's part of the recipe, though, and we don't want to promote lip burns, so there it is.
You can tweak this recipe in a number of ways. Try cinnamon or honey graham crackers. Use semi-sweet chocolate for a smoky flavor, or chop up candy bars for a bigger chocolate burst. You can even get really weird and go with flavored marshmallows, but I haven't tried that yet.
These are best served warm and right out of the oven, but if you should have some left over, store them in an airtight container for no more than a day or two.
Enjoy!