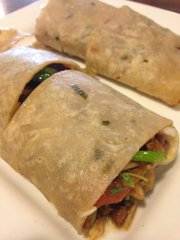 It's rather unexpected to walk into a Thai restaurant and find a dish closely resembling an item found on a Mexican menu. The paper menu offering a variety of Thai, Korean, Szechuan and Chinese dishes, this burrito was found on the authentic menu, a smaller selection written on a whiteboard hanging on the wall.
The Chinese burrito is sliced beef brisket, green onions, tomatoes, cilantro and onions, with a sweet and garlicky soy-sauce glaze covering the mixture. Big enough for two meals, it is wrapped in a homemade flour tortilla, with finely chopped green onions in the dough. The server noted that it's the most popular dish among the Asian customers who are generally the only ones to order off the authentic menu.
Where to get it: Thai House, 711 W. 23rd St.
What you'll pay: $12.99, plus tax
Try it with: Thai iced tea for $2.50. It's similar to regular iced black tea, but the top half of the glass is filled with half and half.
Also on the menu: On the authentic menu, chitlins and fish clay pot, quail egg clay pot, and a number of noodle dishes prepared with lamb, pork and duck. The regular menu has Thai, Korean, Szechuan and Chinese dishes: Thai food classics like pad thai and curries; stir-fried dishes like black forest duck, general's chicken, ginger chicken and Mongolian beef; and Korean dishes like black bean noodles and kimchi fried rice.
— Off The Beaten Plate highlights some of the more exotic, oddly named or inventively concocted dishes from local menus. Know of an offbeat item we should check out? Email food and features reporter Nadia Imafidon at nimafidon@ljworld.com. Follow her at Twitter.com/nadia_imafidon.