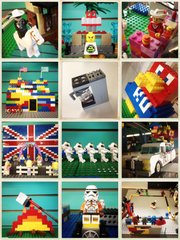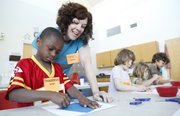 It's the same thing every summer. School takes a hiatus for a couple of months and children everywhere rejoice. That is, for about a week until the inevitable cries of boredom grow louder each day.
Parents, consider this your "I'm bored" troubleshooting guide for when you're looking for some interesting, entertaining activities to do inside or want to get them out of the house.
Get creative
Thanks in part to the huge success of "The Lego Movie," the little Danish building blocks have never been more popular. Summer's a great time to bust out the bricks and let the creativity flow. Nowadays, Lego sets come in all kinds of themes, from superheroes to Lord of the Rings (there are even architectural Lego sets for adults), but the fun part has always been tossing aside the instructions and letting your imagination run wild. Suggest a land, creature or popular place in town for your child to recreate or let them freestyle and take guesses at what it could be. Nothing wrong with spending portions of every evening in your own private Legoland.
Activities
The Toy Store Lego Challenge 2014
Before Sunday, June 22, kids and teens can submit a 32-by-16-inch Lego creation that is no taller than 24 inches to The Toy Store Lego Challenge (936 Massachusetts St.). Voting will start at 10 a.m. June 23 and go through July 6, and voting categories are separated by age groups. Even if your child doesn't enter the contest, it's still well worth making the trip to see the astounding creations in the display. For more information, visit thetoystoreonline.com.
Lego Club
The Lawrence Public Library is hosting Lego Club (ages 7 through 11) in the library event space at 10:30 a.m. Saturday, June 21, where there will be plenty of building challenges for Lego aficionados. Spark some last minute ideas to submit to The Toy Store. Register by calling 843-3833.
Sharing stories
This year the Lawrence Public Library's summer reading program, Summer in the City, running through Aug. 18, offers two ways to consume words: kids and teens can read any 12 books or 30 hours total, including books, magazines or even cereal boxes. Check out the library's calendar of "boredom-busting" events in conjunction with the program.
Activities
Storytimes
If your kids are too young to read on their own or simply enjoy plopping down on the floor for good ol' fashion storytime, the library has plenty of weekly options. This summer's featured event is the Sunday Storytime with a special mystery guest storyteller at 3:30 p.m. for kids 3 and up. Others include Books and Babies (0-23 months), 9:30 a.m. and 10:30 a.m. Wednesdays; Toddler Storytime (2-year-olds), 10:30 a.m. Mondays; Library storytime (3 and up), Tuesday and Friday at 10:30 a.m.
Become mad scientists
Just because school is out doesn't mean the learning has to stop. Grab household items to create "invisible ink." After dipping a Q-tip in lemon juice and writing a secret message on a piece of paper, hold it up to a heat source (light bulb, candle) to reveal the words.
Make balloon rockets by tying a piece of yarn to the back of one chair, and then threading a drinking straw before tying the other end to a second chair placed farther away. Place two pieces of tape on top of the straw. Blow up a balloon without tying the end and hold it while attaching it to the straw with the tape, and pulling it to one chair (balloon opening should touch the chair). Let go, and watch it fly to the other side.
Activity
Exploratorium
At 1:30 p.m., every Monday at Carnegie Building, 200 W. Ninth St., through June 30, kids ages 7 through 12, can partake in science experiments, special effects, volcanoes and more, all for free. Register by calling 843-3833, then drop your kids off to let them watch experiments and get some more at-home ideas.
Get active
Sometimes it's as easy as letting them enjoy some sunshine in the backyard running through sprinklers or riding bikes through the neighborhood.
Activities
LGA open gym
Change things up (and get out of the heat) by bringing your kids to an open gym at Lawrence Gymnastics and Athletics where, under supervision, they can run around, land on soft mats, and jump on trampolines or in the giant foam pit. Summer open gym hours are 10-11:30 a.m. Fridays at the 5150 Clinton Parkway location for kids 5 and under ($5); and Fridays 1:30-3 p.m. at 4930 Legends Drive for kids 12 and under ($5).
Jump 4 Joy Friday Fun Night
Every other Friday from 6 p.m. to 10 p.m., parents can drop their kids off at Jump 4 Joy, 1035 E. 23rd St., for a night of jumping on inflatables, a movie, snacks and themed activities. It costs $20 for kids up to age 12. Call 691-7976 to register.
Get crafty
Take advantage of the heat with this sun-melted crayon art activity. Get a large piece of paper and gather old, broken crayons. Break them into even smaller piece and lay them on top of the paper outside on an extremely hot day. Leave for half an hour (or until melted) and take a straw to blow or even push around the melted wax. Easy for any age, and plenty of creative opportunities.
Activity
Spencer Art Cart
Enjoy free hands-on art projects inspired by Spencer museum (1301 Mississippi St.) exhibitions; this month focused on kinetic works, participants will use materials to build moveable structures. Art Cart is every Saturday, from 10 a.m. to 4 p.m., and Sundays, from noon to 4 p.m.
Lawrence Arts Center Classes
The Lawrence Arts Center is offering tons of art classes and fun activities broken up by weekly sessions to keep them busy while also learning during the summer. A few of the offerings:
• In the Sticky Business class for the preschool through kindergarten crowd, students play, build and create art with clay, glue, gloop, ubleck, to name a few. July 21-July 24, 1 p.m. to 3 p.m., $72.
• If every Muppet movie sits in your at-home movie collection, Puppet Mania might be the perfect class for your first- through fifth-grader. Creating different types of puppet, from simple to complex, employ art techniques while diving into the visual and theatrical world of puppetry. July 29-Aug. 2, 9 a.m. to noon, $121.
• A class for sixth- through 12th-grade students will teach them beginning potter skills. They will be introduced to the potter's wheel and fundamental techniques. June 23 -June 27, 9 a.m. to noon, $154.
Broken up by session, check out the full calendar of classes/institutes for kids in preschool through kindergarten, first through fifth grade and sixth through 12th grade at lawrenceartscenter.org.