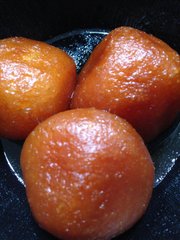 Gulab jamun is a popular Indian dessert made from a basis of wheat flour and milk powder, mixed with exotic spices and yogurt to form dough balls that are deep fried and then soaked in a light syrup flavored with rosewater. It's similar to the American doughnut hole, and arrives warm and drenched in a sugary syrup. Three perfectly round pieces are served in a dish with extra syrup sitting at the bottom for the dessert to continue absorbing; with each slice into a piece, sugary liquid escapes.
The word "gulab" means rose (for the rose-flavored syrup) and "jamun" means berry, named for a deep-purple-colored Indian berry (the dumplings resemble this dark color when fried).
Where to get it: India Palace, 129 E. 10th St.
What you'll pay: $3, plus tax
Try it with: Mango ice cream ($3.50) would complement this dessert nicely.
Also on the menu: A lunch buffet that gives those unfamiliar (or obsessed) a well-rounded sampling of the many gourmet Indian dishes available on the dinner menu, including vegetable samosas, chicken tikka masala, curries, naan bread, biryani, tandoori specialties, korma dishes and a variety of chicken, beef, lamb and vegetarian plates, from mild to extra spicy. The menu is also available during lunch buffet, if you'd rather indulge in a favorite item.
— Off The Beaten Plate highlights some of the more exotic, oddly named or inventively concocted dishes from local menus. Know of an offbeat item we should check out? Email food and features reporter Nadia Imafidon at nimafidon@ljworld.com. Follow her at Twitter.com/nadia_imafidon.