By now we all know the touted benefits of shopping local. It's a no-brainer for supporting and retaining our community, not to mention the unique products available and added distinction to our city.
This exercise in socially responsible shopping can be made even greater when the local purchase not only enhances our community but also contributes to communities globally. Ten Thousand Villages, one of the world's oldest and largest fair trade organizations, makes that possible for us all.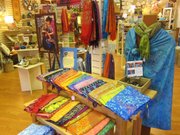 Ten Thousand Villages opened on Mass. Street in October 2012, and the store currently carries products from 38 developing countries. All products are handmade, environmentally sustainable and fair trade (which means your purchase helps supports under- and unemployed artisans in other countries).
With only two paid employees and 60 local volunteers, this nonprofit depends on generosity from our Lawrence community to fulfill its mission of developing long-term fair trading relationships. In this way, sales revenue generated by Ten Thousand Villages is used to increase purchases for new products.

I stopped by the store recently to chat with Scott Stutler, the Lawrence store manager, and learned about some of the more popular items in the store. Scott showed me some vibrant bracelets made from Tagua nut (the dried seedpod of the Tagua Palm tree out of South America). The smooth texture of these beads is similar to that of elephant or animal ivory, and it makes for a sustainable and ethical alternative.
Shoppers also take fairly quick notice of the musical instruments in the store, particularly the drums. The Djembe Gathering Drum, for one, is a leather-covered hand drum made in West Africa. It's so handsome and impossible to resist! I had to tap my fingers on it, just to get a feel for its musical possibilities.
Overall, this shop is not short on exquisite products. You will find everything from jewelry to home accents, and kitchen and dining to patio and outdoor items.
Ten Thousand Villages also hosts an event about once a month that often include festive music and food, so make sure to connect with them on Facebook to stay up-to-date.
And for those interested in supporting this local store, if you have at least eight hours a month to volunteer and an interest in supporting fair trade, Scott would love to hear from you.
— Jessica Pauly, aka Mrs. Mass., gives her thoughts on shopping, urban living and what's new in Lawrence in CheckOut weekly and on her blog, mrsmass.com.