Plenty of my photographer colleagues believe that basketball sits at the top of the list among the easiest sports to cover. Often the reasons they cite are that it's played on a relatively small court and also for the predictability of the action's direction.
I used to be of this camp for many of the same reasons. Sure, it's a linear game that doesn't require a hand-cannon of a lens to cover, you can see the player's faces (no helmet) and the photographers work right up along the baseline by decree. But predictable?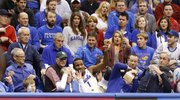 Submit your photos
Mike Yoder will write about self-portrait photography in his March 16 Behind the Lens column. Submit your creative self-portraits to myoder@ljworld.com between now and March 13 to be included in an online photo gallery with the story. Feel free to provide a description about the photo.
Like I said, I used to believe this. That was, of course, before I saw Wayne Selden dive over a courtside table and into a row of fans to save an out-of-bounds ball, which was then converted into a bucket by Joel Embiid.
Such a save being rifled to a teammate who turned around and connected for a short jumper is definitely a rare occurrence. The collisions are not, and happen almost every game to some degree. But it's usually a row of seemingly magnetized photographers or scurrying cheerleaders who take the brunt of the impact.
After Selden's head-first dive had emblazoned itself across the Web, on Facebook, YouTube, Twitter and the SportsCenter Top Ten, it was clear that everyone unanimously agreed that it was an unbelievable show of hustle and subsequently thanked Selden for the effort. I too was thankful — not for the bucket, but rather for the fact that he further solidified my opinion that basketball is a dynamic sport full of unforeseeable events and outcomes. Or maybe it was that because the play became such a spectacle, my hand was forced into running the image of the freshman guard strewn about some unsuspecting fans in the crowd, whose amusing facial expressions stretched wide across the gamut of human reaction.
Now, I know what you're thinking, and the answer is, no. I don't gleefully wait for such moments to occur. In fact, I don't even recall having ever seen anyone hurt. Having myself been on the pummeled end of a collision a time or two, I find the best defense when you know the hit is coming is to just to curl up in a ball (woman in front row) and hope that the player's athleticism will take over and steer us both from harm. In the case of the man with the popcorn who took a roundhouse from Selden's left leg, I might have ducked. But who could have predicted that?