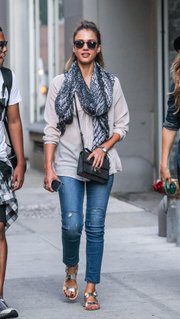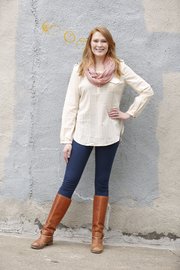 Get the look
Duplicate Jessica Alba's relaxed style, with this outfit from Eccentricity: Jeans, !It, $89 (recently on sale for $44.50); shirt, Nick and Mo, $89; scarf,$24; purse, Cut N Paste, $98.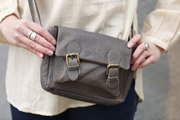 Some recent warmer weather might inspire some people to start spring wardrobe shopping, and you can look to Jessica Alba for inspiration.
Jessica Alba's fun, relaxed style works for everyone from fashionable moms to trendy college students.
You can find items at Eccentricity, 716 Massachusetts St., similar to ones Alba recently wore.
Jessica's look, made up of skinny jeans, a shear three-quarter sleeve shirt and a lightweight scarf, makes the perfect outfit to transition into spring.
Eccentricity owner Morgan Fellers described this look as on-trend with this spring's fashion.
"Those sheer, chiffony fabrics will be huge," Fellers said.
Sheer shirts work great with all body types, Fellers said. The lightweight fabric enables you to wear long sleeve or three-quarter-sleeve shirts even during warmer weather.
Scarves are an accessory that will continue to be popular this spring, Fellers said.
Lightweight scarves are a perfect way to pull together a spring outfit. Scarves are also an easy way to expand your wardrobe. A plain-colored top can be transformed into several outfits by paring it with different scarves.
"A scarf can make any outfit," Fellers said. "Really anything you have, grab a scarf and throw it on with it."
Fellers encourages people to be creative when they add scarves to an outfit.
"It doesn't even necessarily have to match," Fellers said. "It's just about having fun with it and making it your own look."
Eccentricity has several scarves for $24.
Fellers said infinity scarves are popular this year. Skinny jeans are another trend that continues to be popular.
"It's definitely sticking around for I think quite a while," Fellers said.
The skinny jean provides a versatility that makes it an item you can wear year-round. Skinny jeans look great with boots in the winter. And in the spring and summer, these jeans work with sandals and stilettos.
You can roll up skinny jeans to create a spring look out of the jeans you wear during the winter. Or you can buy cropped skinny jeans made specifically for the warmer weather.
The best thing about Alba's skinny jeans, sheer top look is that it works with all body types, Fellers said.
"I really feel like that style works for anybody," Fellers said.
If you don't feel comfortable wearing skinny jeans, Fellers recommends pairing the jeans with a longer shirt or tunic. Leggings are another option for people who like this look.
Alba tops off her outfit with a crossbody purse, which is another big 2014 trend. A similar purse is available at Eccentricity for $98.
— Arley Hoskin prides herself in finding trendy styles on a journalist's budget.