In the realm of fashion accessories, men have limited options. This is especially the case when your destination need not require cuff links and a tie bar. Unfortunately, the one viable option for men, the wristwatch, has met a formidable adversary: the cellphone. A wristwatch can be more than a timepiece, though. Let it be a statement about who you are.

The men's wristwatch first took off during WWI when troops required reliable, precise and virtually indestructible timepieces to synchronize their movements.
Pocket watches proved less than practical in the trenches, tedious on horseback and nearly impossible to read in the air. The military began issuing canvas-strapped, luminescent wristwatches to servicemen, and they kept them strapped to their wrist long after they returned home.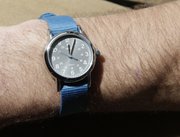 It did not take long for businesses to take notice of the post-war trend, and the Connecticut-based Waterbury Clock Company quickly began marketing inexpensive wristwatches to the general public.
When the Great Depression hit, the company flourished when it sold over 2 million Mickey Mouse watches at a buck-fifty apiece because of an exclusive agreement with Walt Disney. Today, that company is popularly known as Timex.
Timex still makes great wristwatches for nearly all walks of life. My personal go-to is the Timex Weekender. Modeled after post-war wristwatches, the Weekender's slip-thru straps allow you to easily switch out colors and fabrics ranging from canvas to leather and from solid black to rainbow, making it versatile enough for nearly every occasion.
The Weekender runs around $44.98 at Sunflower Outdoor and Bike Shop, 804 Massachusetts St., with additional straps available online for $6.99. But do not feel limited by Timex brand straps.
A quick online search turns up dozens more options. As a rule of thumb, leather straps work best in the winter, while colorful bands add a splash of detail during warmer seasons.
Rules for wearing a watch
If your occupation requires regular attendance at more formal occasions, you will want something with a sharper appearance than a canvas strap wristwatch, though a leather strap will do in a pinch. Gold and stainless steel are the classic choices. In choosing either, follow a few simple rules.
• Keep the size of your wristwatch in line with the size of your wrist. Do not try to compensate with an oversized face or wide band.
• Choose a basic color for the face. White or cream is preferred, but blue, having made a place for itself in the classic repertoire of watch faces, will last a lifetime as well.
• Keep the face clean, simple and sophisticated. Unless you're climbing Mt. Kilimanjaro or heading to some other far-off high-altitude adventure, forget the altimeter, chronograph and any other nonessential elements. Basically, if you do not know what a dial is for, do not buy a watch with one on it.
• Leave your sports watch at the gym. There is generally no need to know your lap time while strolling Massachusetts Street or wooing your significant other on date night.
• Finally, do not forget to wind your wristwatch forward an hour on March 9 for daylight saving time.
— Nicholas Cunigan is a Ph.D. candidate in early American history at Kansas University. He blends classic fashion with modern details on a low-cost budget.